In the News
New England Historical Association Conference
In October, two graduate students, Kristen Black and Courtney Garrity, presented their research at the fall conference of the New England Historical Association held at Southern Connecticut State University.

Both students participated in the panel "Reframing Slavery and Freedom in the Public History Narrative: Case Studies from New England." Courtney presented her work, "Creating a Timeline of Enslavement in Bristol, RI," while Kristen shared her research, "From Enslavement to Network to Freedom: Case Studies of Barrington, RI and Fall River, MA."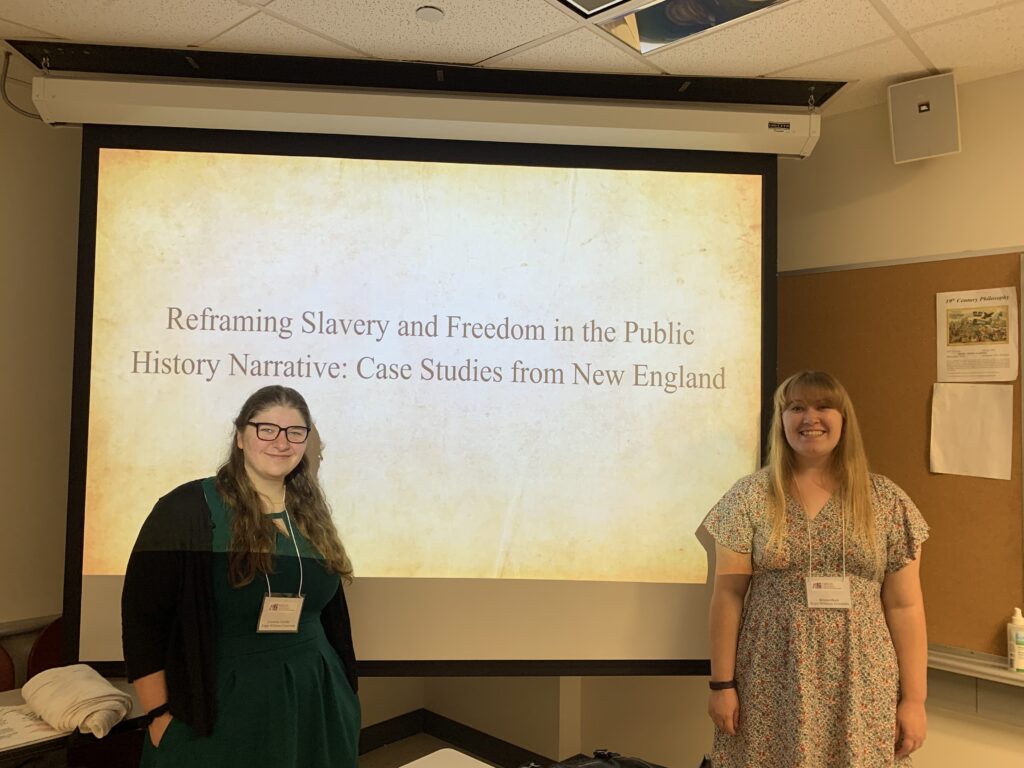 Graduate History Student Receives Accolades for Teaching
Christopher Stanley, a current student in the Grad History Program, recently received two awards in recognition of his exemplary contributions as a history teacher: The Beveridge Family Teaching Prize and The Susan B. Wilson Civic Education Merit Award.

The Beveridge Prize is awarded annually to recognize distinguished K-12 history teaching.

The Susan B. Wilson Award was created to "honor teachers who have enriched their students' understanding of civic rights and responsibilities; have encouraged their students' civic participation; and have brought context and relevance to crucial events affecting the United States on a national, regional, statewide, or local level."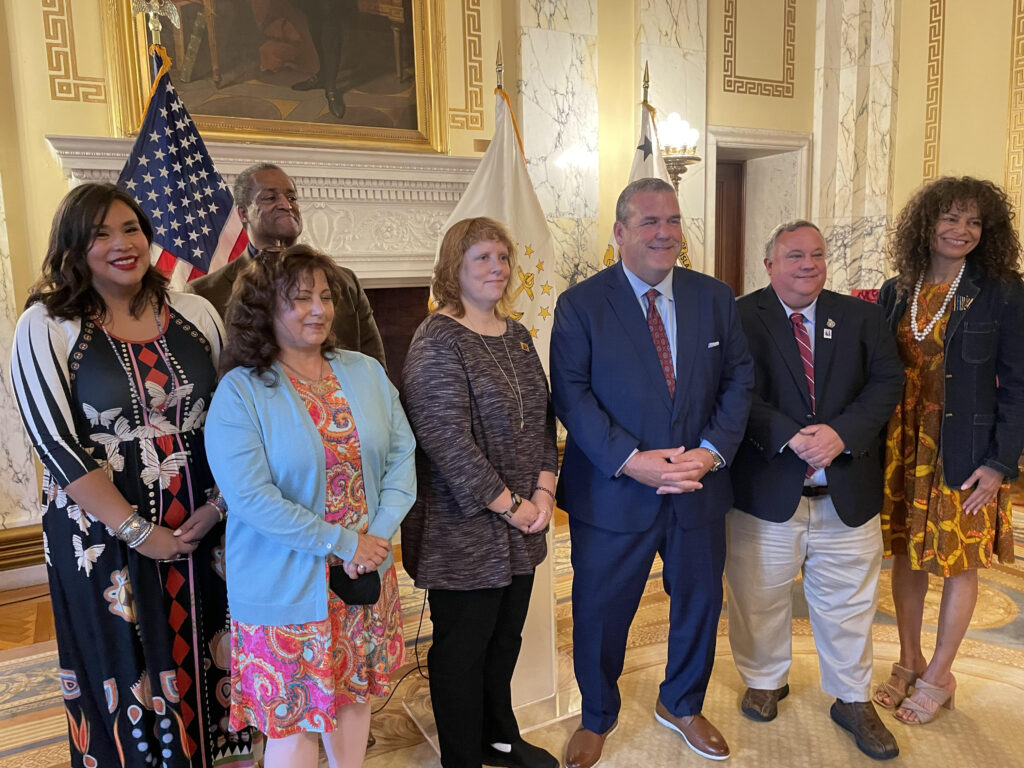 ---
Graduate History Student Nominated for National Teaching Award
Current M.A. in History student Michael McNamara has been nominated for the 2023 Patricia Behring Teacher of the Year Award. The nominees for this award are selected by the National History Day organization, recognizing teachers who go above and beyond to make history accessible and exciting for their students. Michael is one of two teachers to be nominated for this award from Rhode Island.

Last summer, Michael was also part of a cohort of teachers selected by National History Day to create a series of lesson plans and teaching strategies centered around the theme of "Revolutionary Ideals" for the 250th anniversary of the signing of the Declaration of Independence in 2026. As 1 of 30 teachers selected, Michael completed a special graduate-level course over six months to learn about and research the ideals of the American Revolution and consider how they were (or were not) practiced or applied fully. As part of the process to create the lesson plan, Michael attended a summer institute through the Rhode Island Historical Society in 2022 and worked with a virtual reality artist at Brown University. The topic of the plan focused specifically on the Gaspee Raid, titled "The Gaspee Raid: Prelude to the Boston Tea Party?"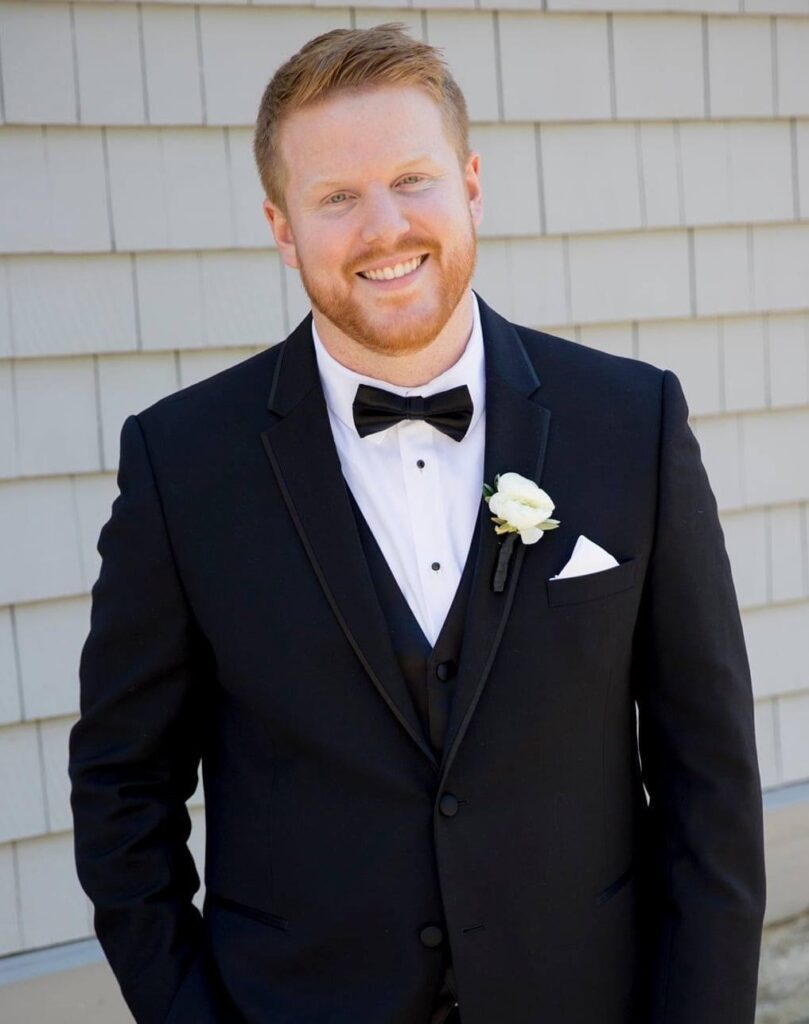 Paul F. O'Malley Award
We're pleased to announce Katherine Lynch as the 2023 recipient of the Paul F. O'Malley Award for Outstanding Graduate Student! Katherine graduated from the master's program this spring after successfully completing her graduate studies and her thesis "A Duty to Shout 'Stop'": Irish Solidarity with Palestinian Refugees, 1960-2000.
Emily Dupuis was honored with the inaugural Paul F. O'Malley Award. Emily completed her thesis A Transatlantic History of Irish Catholic Women in 2022 and moved on to a Ph.D. program at Boston College afterwards.
The award was created in 2022 to honor Dr. Paul O'Malley, who retired after nearly 60 years in the Department of History and Classics, including two decades as Graduate Program Director. It is awarded annually to a top Graduate History student, decided by the faculty, who has shown exemplary skill and dedication to their studies.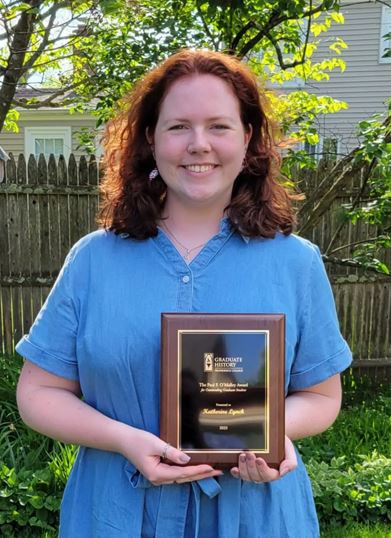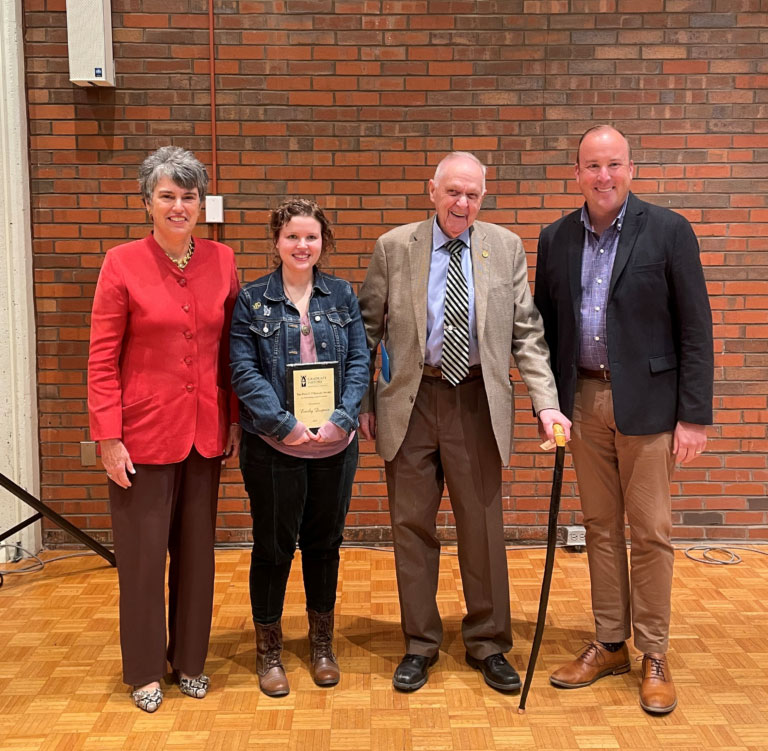 Graduate History Program Alum Accepted to Ph.D. Program
This fall, Connor Toole, M.A. '16 will be attending Indiana University's Ph.D. program in Folklore Studies at the Folklore Institute. The Folklore Institute is a world-renowned center for folklore scholarship, where folklorists and scholars in related disciplines of the humanities and social sciences investigate the interplay of tradition and creativity within social and cultural conditions. Whether through verbal, material, or customary forms, human beings seek understanding and involvement through the shaping of traditional resources to meet new and challenging circumstances. The students and faculty of the Folklore Institute work together to document, describe, analyze, and interpret the interplay of creativity and tradition, whether it takes place in rural or urban, domestic or international, past or present settings.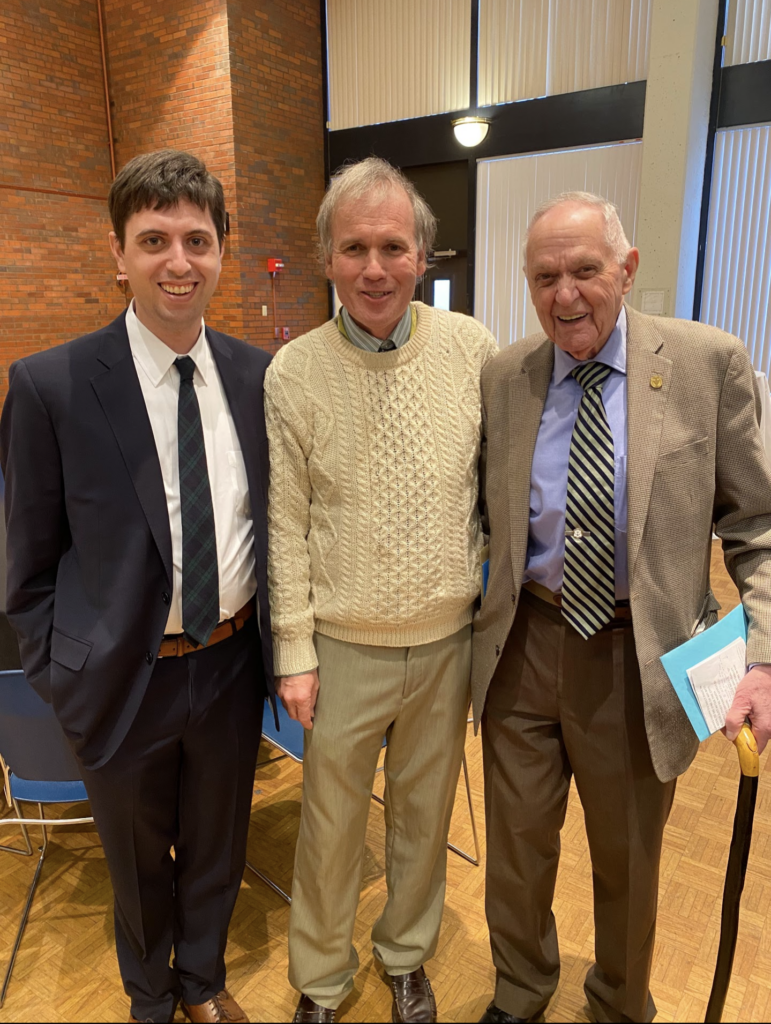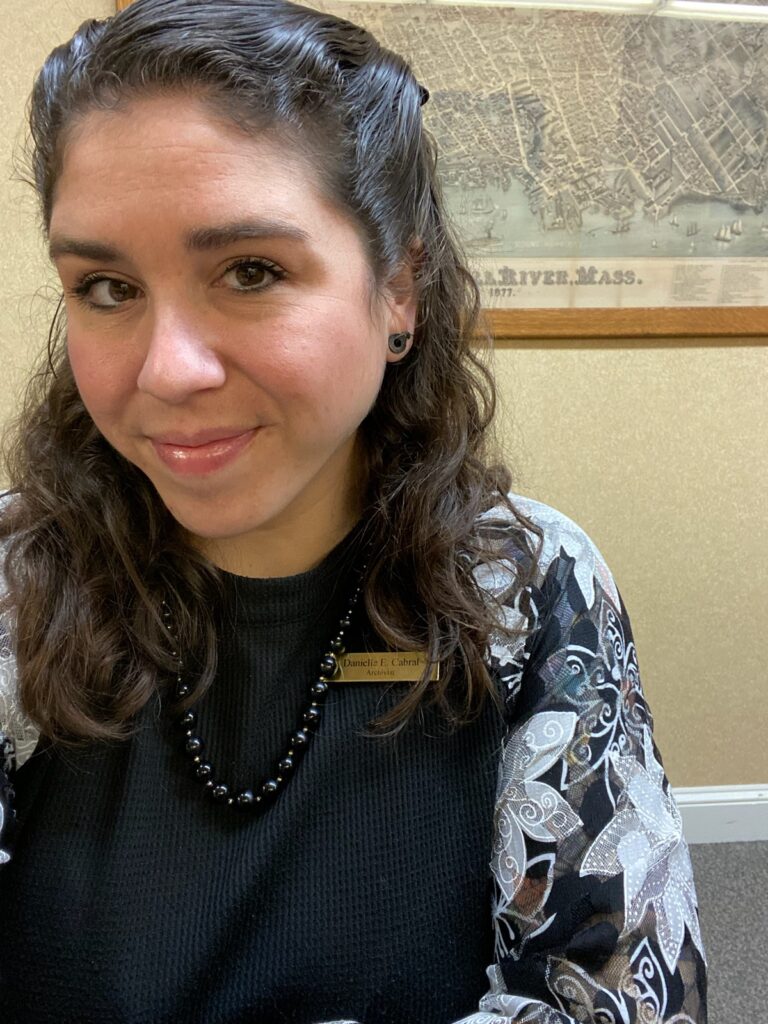 Fall River Historical Society
Danielle Cabral is the archivist at the Charlton Library of Fall River History at the Fall River Historical Society (FRHS). Her primary work currently encompasses transcribing a large collection of personal correspondence and associated papers pertaining to the family of Earle Perry Charlton Sr. (1863-1930), a wealthy retail entrepreneur whose international chain of five-and-ten-cent stores merged, in 1912, to form the F. W. Woolworth Company. Her work is instrumental in providing primary source material for an upcoming history of Charlton and his retail empire that will be published by the Fall River Historical Society Press. Additionally, Danielle assists researchers on-site, via telephone, and social media, and conducts tours of the museum building. She also inaugurated and curates the weekly FRHS blog Time Travels: Acquisitions and Anecdotes from the Fall River Historical Society Archives. Danielle is also serving as a research assistant to historian and author William Moniz.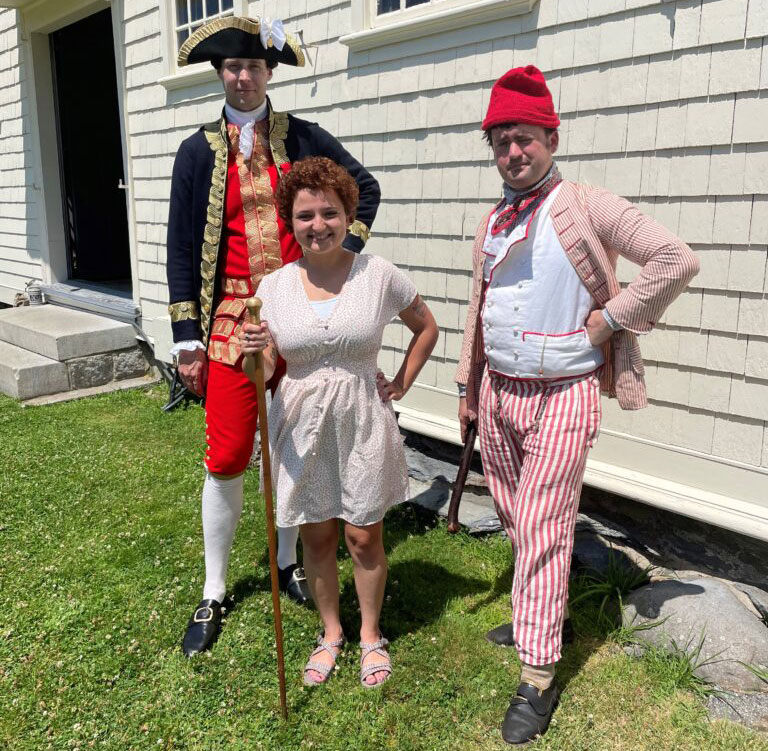 Newport Historical Society
Rebecca Farias completed an internship at the Newport Historical Society as their 2022 Buchanan Burnham Summer Scholars in Public History Program Fellow. Since 1854 the Newport Historical Society (NHS) has collected and preserved five centuries of American history and continues to document Newport's unique contribution to our national narrative. It acts as a resource center for the education of the public about the history of Newport County, so that knowledge of the past may contribute to a fuller understanding of the present.
Rebecca conducted research using the Newport Archives and writing historical blog posts. Two of the main projects she contributed to include a collaboration with the Rhode Island Historical Society with a traveling photo exhibit and a research project focusing on BIPOC biographies for the NHS' Know Your History Hub.
Rebecca also wrote an article about privateering using historical manuscripts from the NHS' archives.